Flow Group News
Flow Group
31/05/2014 @ 23:56
FLR1431EP - D-Sens - Over Your Shoulder
Out now the new Ep from the french producer D-Sens, Label Manager of Bus records. The main track ''Over Your Shoulder" brings us a fat pulsating bassline, sensuous and hypnotic synths stabs, combined with extra layers of percussion and eerie effects.To complete this release, the remix duties come from Peppelino – the Hungarian producer Peter Forasi who continues to bring us peak time rave belters
26/05/2014 @ 16:36
FV055 - SQL - Velour Ep
This massive ep reached #14 on Beatport Techno Chart, grab it here. Check out all rants about it here :-) Laurent Garnier moody hapyness, I love it again, A million thanks for this, can't wait to play it out this week end, Merciiiiiiiiiiiiiiiiiiiiiiiiiiiiiiiiiiiiiiiiiiiiiiiiii D-Nox (Sprout) jesus christ!=!=!=! wehbba in topform. thats the one for me! big support Secret Cinema Superfat release!! Will play all tracks! SQL on a roll!!! 5/5
12/05/2014 @ 17:39
FLR1430EP - Diogo Ribeiro - Shaper EP
Flow Records returns with one of Flow´s old time favorites and country fellow man, Diogo Ribeiro. Diogo´s Shaper brings Diogo´s trademark of rolling basslines, deep atmospheres combined with swearling synths evolving into a big finale. Beat Bizzare, from Denmark and Iboga´s old timer, as always manipulates the elements, taking you into a long and deep journey of pure deep psychedelia.
Flow Group
04/04/2014 @ 19:34
FLR1429EP - Nanoplex - The Cougar EP
Flow Records returns once again with another great Ep from Nanoplex, the storming project of Ben Coda and Ipcress, who have been building a strong reputation for delivering the goods, they are pushing the boundaries and aiming high and in the last years by taken their sound across Europe and the world. This is the progressive techno psy sound of the future.
Flow Group
03/03/2014 @ 16:51
FV054 - Pedro Aguiar Ep
Out Now this amazing ep from Flow Vinyl. An amazing track by Pedro Aguiar and two marvelous remixes by Alexander Kowalski and Jamie Stevens. Some amazing support by the likes of Slam, Secret Cinema, Nick Warren, Guy J, Eelke Kleijn, Jeremy Olander, Wehbba, James Monro, Marco Nastic, Paco Osuna, Hawtin, etc.. Check all here
27/02/2014 @ 14:29
SQL Live (Gem) Hol - A Flow Private Party
Saturday 1st March, we are throwing a super cool party with SQL Live (Gem) Hol and Manu from Soniculture. All info here
04/02/2014 @ 22:49
FLR1428EP - Zen Lemonade - Addiction
After a break of 10 years on dancefloor related music, Zen Lemonade are back on Flow Records with Addiction EP, a killer release with great remixes from James Monro, Andrea Bertolini and Manu Ferrantini
27/01/2014 @ 18:37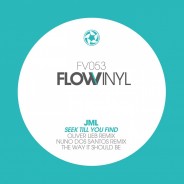 FV053 - JML EP Out Now
Out now this amazing new ep from Flow Vinyl, supported by huge names from John Digweed, Laurent Garnier, Satoshi Tomie, Carola, Hawtin, etc