Flow Group News
Flow Group
28/11/2012 @ 8:17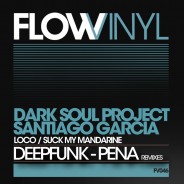 Fv046 - Dark Soul Project & Santiago Garcia EP - Out Now
Another massive release, grab it here
Flow Group
28/11/2012 @ 8:14
FV045 - Simon Vuarambon EP - Out Now
full support from Digweed, Seaman, Len Faki, Mark Knight to name a few grab it here
Flow Group
26/09/2012 @ 0:56
FV044 - Darin Epsilon Ep - Out now
OUT NOW! Remixes by Lank, André Sobota, and DNYO. Main Banner on Beatport and a Top 10 Must have prog house on Beatport. Support from (alphabetical) 16 Bit Lolitas, Cid Inc, Dave Seaman, Dosem, Eelke Kleijn, Hernan Cattaneo, Jerome Isma-Ae, Jamie Stevens (Infusion), Jaytech, Jody Wisternoff, Luis Junior, Microtrauma, Nick Warren, Slam, and more! Download Here:
Flow Group
11/09/2012 @ 16:03
FV043 - Pablo Acenso EP - OUT NOW
The new ep from pablo acenso is out now. check it Here
Flow Group
06/06/2012 @ 12:12
FV042 - Cid Inc - Divine Ep - Out Now
Out now this massive release with Cid Inc and a huge remix by Hernan Cattaneo & Soundexile and Les Limaces & Pena. Supported by Warren, Garnier, Spartaque, Guy j, Dosem, King Unique, etc etc. check more info on the releases area.
Hyperflow
05/06/2012 @ 21:40
PsiloCybian - Brain Dissolver
His past is merged into his future, minimalism is in his style and ever present....
Hyperflow
05/02/2012 @ 3:35
Disco Hooligans - Beat The Box - Out now!
The Greek duo Disco Hooligans drops another massive release from their studio.
Flow Group
06/01/2012 @ 1:33
New tees & hoodies available from our online shop
Our new super cool limited edition tees are now available from our store at local direct prices.grab them while you can.