Flow Group News
Flow Group
27/11/2013 @ 16:07
Peter Wagner - To Dance Till The Sunrise
To Dance till the Sunrise' is a fitting title as this bass-heavy techno bomb is destined to see some serious dancefloor action. Filled with smouldering energy, the intensity is further enhanced by a dramatic breakdown and an evocative spoken word vocal. Throw three superb remixes from MAVERICKZ, LA BAAZ & KARA MAEHL, MOOOSFIERB into the equation and 'To Dance till the Sunrise' is a major release for the summer from Flow with massive remixes
29/10/2013 @ 16:09
Flow Records Presents Sleek Aka Liquid Soul
Flow records proudly presents a new ep from Sleek aka Liquid Soul with two massive remixers from Perfect Stranger & C-Jay,already gaining a great suport from the top djs like Regan(Nano), Protonica, ManMadeMan, Tongue & Groove and more
28/10/2013 @ 18:27
New releases on Flow
Its Autumn and some warm and pumping music coming your way for this slightly colder days, Flow Vinyl will heat us with 2 massive techno monsters from Kassey Voorn and Flow Records with a portuguese new talent Peter Wagner with some top remixers like Maverickz, Moosfiebr, etc plus an ambient EP from FR manager Nuno Henriques aka Fenix Project. Just stay tuned via our website and social networks.
18/04/2013 @ 23:34
Whats New on Flow
Loads of stuff have been happening here on Flow and now its time for a small update, guess this is a resume of whats going on, so, Flow and Hyperflow just made some really nice events in Lisbon with D-Nox & Beckers and Sonic Species, some great after hours powered by us too, and releases wise, Flow Records and Wolf Music just releasing their latest eps and Flow Vinyl just sending some promos from the forthcoming ep from Pedro Aguiar - i dont want it with remixes from King Unique new alter ego Ray Unico and Beaumont Stanford. Huge stuff being already supported by Digweed, Cattaneo, Guy J, FunkDVoid, Jeremy Olander, Marzenit, Saiz, Poppcke, Warren, etc. Check the releases are for the preview.
Flow Records
05/03/2013 @ 18:59
FLR1320EP - D-Sens - Waiting for the Sun OUT NOW
For their first release of 2013, Flow Records present a new track from D-Sens which perfectly captures the icy chill of winter. Appropriately titled, 'Waiting for the Sun' is a slow-burner with a growling, intense energy, and a rollin' funk more than capable of capturing the dancefloor.
Flow Group
24/01/2013 @ 14:31
FV047 - DNYO & GRG - Day Off - Out Now
Our new release just out with Egbert and Guy Manztur remixes just had Mantzur remix #1 Beatport Must Hear Progressive Track. Now doubts when we have feedbacks like Laurent Garnier´s saying: I REALLLLLY LIKe THIS A LOT, will play it everywhere, Thanks a lot Check the tracks and support on the Flow Vinyl Releases area.
Flow Group
28/11/2012 @ 8:17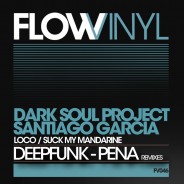 Fv046 - Dark Soul Project & Santiago Garcia EP - Out Now
Another massive release, grab it here
Flow Group
28/11/2012 @ 8:14
FV045 - Simon Vuarambon EP - Out Now
full support from Digweed, Seaman, Len Faki, Mark Knight to name a few grab it here