Upcoming Events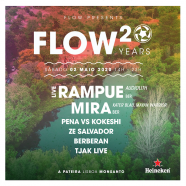 Flow celebrates his 20 years with a beautiful event on the greenest area of Lisbon, Monsanto, in Pateira.
---
Past Events
A Flow Rooftop #1 with Nakadia
Flow proudly presents Norman Nodge (Berghain/OstGut Ton) Berlin
Flow goes Japan with Dj Nori
Feb 14th - Mark Henning @Europa Sunrise
Flow apresenta uma Festa Privada com Nanoplex e Ben Coda para amigos da Flow.
8Bit´s Gorge is coming to Lisbon on Dec19th.
Flow apresenta Sebastian Mullaert (Minilogue) Suecia Europa Sunrise das 00 as 10am.
Flow apresenta Rooftop Party ClubeFerroviario Sabado 20 Setembro (Summer Closing Party)